Campaign News and Announcements
Guidance In Giving, Inc. is currently partnered with the following Catholic Dioceses and Parishes on their capital projects.
Dioceses
Diocese of Fargo, ND: Conducting a planning study for a potential Diocesan-wide capital campaign.
Archdiocese of Galveston-Houston: Conducting a $150,000,000 Diocesan-wide capital campaign, IGNITE: Our Faith, Our Mission,  to support renovations and modernization of St. Mary Seminary, Fund 3 Educational Endowments, Support Faith Formation and Fund Parish Needs. https://www.archgh.org/ignite
Diocese of Laredo, TX: Conducting a Diocesan-wide capital campaign, Our Story, Our Faith, Our Cathedral to support the San Agustin Cathedral.  https://www.dioceseoflaredo.org/capital-campaign
Diocese of Ogdensburg, NY: Conducting a Diocesan-wide capital campaign It's Our Church, It's Our Future. Video: https://www.youtube.com/watch?v=Nm5W4BRwPa4
Brochure: https://www.rcdony.org/images/Pics/Development/DOO%20Bro%20Final.pdf
Diocese of Providence, RI: Conducting a $50 million Diocesan-wide capital campaign, Grateful For God's Providence. The Campaign's purpose is to provide greatly needed funding for several causes: the education of seminarians, support for retired priests, tuition assistance for Catholic Schools, support for Catholic charities and social ministry, funding for the preservation of the beautiful cathedral, and, very significantly, for the parishes, the communities where Catholics regularly experience and practice their faith.  https://youtu.be/8g6GprBigyg
Diocese of Worcester, MA: Conducting a planning study for a potential Diocesan-wide capital campaign.
Diocese of Oakland, CA:  Design and manage the Bishops Appeal for the past five years with annual increases each year.
Archdiocese of Newark, NJ: Conducting a $90,000,000 capital campaign to raise funds for Seminarians Education, Priest Retirement, Catholic Schools and parish needs.
Diocese of Orange, CA: The For Christ Forever campaign has raised over $107,000,000 to date.  The campaign case elements included the renovations to Christ Cathedral campus, Catholic education, local parish support, priests retirement and diocesan ministries.
Upcoming Speaking Engagements and Stewardship Conferences
2018 ICSC Annual Conference
2018 DFMC Annual Conference
Parishes
Cathedral of Christ the King, Atlanta, GA
Corpus Christi, Bonita, CA
Holy Rosary, Rosenburg, TX
Holy Spirit, Annandale, CA
Immaculate Conception, Westerly, RI
Our Lady of the Holy Souls, Little Rock, AR
Our Lady of Fatima, San Clemente, CA
St. Ambrose, Annandale, VA
St. Francis de Sales, North Kingston, RI
St. Joan of Arc, Powell, OH
St. Joseph, Downingtown, PA
St. Mary, Potsdam, NY
St. Mary Magdalene, Humble, TX
St. Mary Magdalene, Simpsonville, SC
St. Mary of Sorrows, Fairfax, VA
St. Michael, Poway, CA
St. Polycarp, Stanton, CA
Schools
Annunciation Catholic School, Columbus, MS
Charleston Catholic High School, Charleston, WV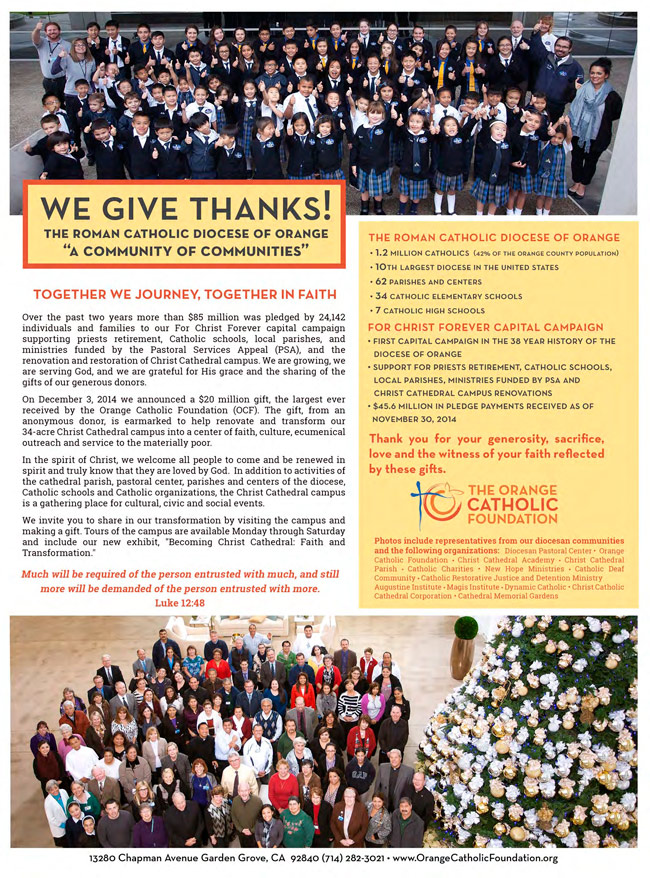 By Susan Bailey | Catholic Free Press Correspondent When Father James Steuterman, pastor of St. Richard's in Sterling, first learned of the Legacy of Hope campaign, he was far from enthusiastic. "I was not happy [...]
Maximizing Fundraising Analytics to Secure Leadership Gifts for Your Campaign Fundraising Analytics, Big Data, Data Mining and Donor Intelligence are all currently buzz words in the fundraising industry. Some believe these are a magic item [...]
A great article written by Bishop Tobin, Bishop of Providence. http://thericatholic.com/stories/lets-talk-about-giving-to-the-church,9538
We were honored to be a part of Christ the King Cathedral and School's (Atlanta) historical Capital Campaign. Overall, the Cathedral raised $26.5 million, 9 times their annual offertory!
Click on the full story to see the video https://www.youtube.com/watch?v=TGVfvnIsO14