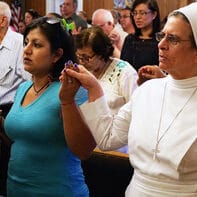 Guidance In Giving, Inc., is proud to offer our Hispanic & Multi-Cultural Division. Over the last two decades, our firm has witnessed the growth of Spanish speaking Catholics in the United States and recognized the need to increase our service to this vital segment of our Catholic family.
We use a "Create, Not Translate" approach to our fundraising in our bilingual accounts. This allows for an individualized appeal to each community and speaks to the needs and the "why" for each community to participate in the parish or diocesan campaign. This approach has not only raised more money, it has helped bring communities together with a sense of pride and ownership, and has left the parishes better off after a campaign.
More and more parishes require bilingual services and in some cases, Spanish is the primary language used in the parish.
We have assembled a great team of professionals who speak Spanish and understand the cultural differences between new immigrants and already established Spanish speaking Americans. Our staff includes directors form different countries such as: Mexico, Dominican Republic, Columbia, Chile, Ecuador, and others.
We stand ready to continue to provide quality service in all aspects of development in both English and Spanish.
Please watch our Beyond Translation video from the leaders of our Hispanic Division where they explain the benefits of the Create, Not Translate Approach