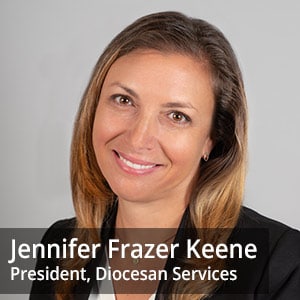 President, Diocesan Services
Phone: 856-371-6265 | Email Me: jfrazer@guidanceingiving.com
Jennifer Frazer Keene, a New Jersey native, joined Guidance In Giving, Inc. in 2000 after receiving her Bachelor of Arts degree in Communication from Salisbury University in Maryland. She has been an integral part of diocesan campaigns in: Greensburg, PA; Toledo, OH; Peoria, IL; Charleston, SC; Victoria, TX; Helena, MT; Fort Worth, TX; Lexington, KY and Marquette, MI; Raleigh, NC; Sacrament, CA and Oakland, CA raising in excess of $400,000,000. Jennifer manages all campaign multimedia set-up for all diocesan accounts.
Jennifer and her husband, Scott have a son, Bryce, and live in Raleigh, North Carolina where she is a parishioner at Sacred Heart Cathedral, a member of the Catholic Charities Gala committee and a volunteer for the SPCA of Wake County. In her free time, Jennifer enjoys spending time with family and friends and watching her son play soccer, t-ball and swim.