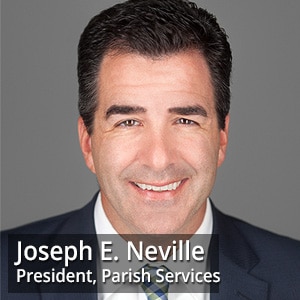 President, Parish Services
Phone: 619-807-0157 | Email Me: jneville@guidanceingiving.com
Joe Neville, a Maryland native, currently resides in Windermere, FL and joined Guidance In Giving in 2000. Over the last twenty-one years, he has been involved in conducting a wide array of development efforts throughout the United States in arch/dioceses, parishes and Catholic high schools (including capital campaigns, planning studies, annual appeals, development audits, etc.). He has been involved with Catholic projects in Alabama, Arkansas, California, Florida, Georgia, Maryland, Missouri, North Carolina, Ohio, Pennsylvania, Texas, Virginia, Washington, and West Virginia. For the past eight years, Joe has focused his efforts in sales, supervision and operations of development efforts in Catholic parishes and dioceses throughout the Mid Atlantic and Southeastern United States.
He and his wife Kristy were married in 2004 and have two children, Evan and Claire. Joe is an avid sports fan and enjoys cheering his teams and his children on in their various sports and playing golf and softball in his spare time.