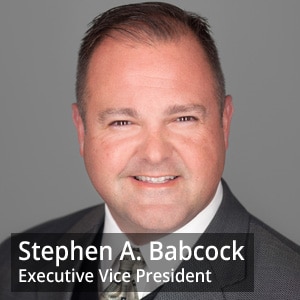 Executive Vice President, Parish Division
Phone: 800-509-6054 | Fax: 631-563-0871 | Email Me: sbabcock@guidanceingiving.com
Stephen A. Babcock, originally from Central New York (Oswego), resides on Long Island (Sayville) and joined Guidance In Giving, Inc. in 1997. Since joining Guidance In Giving, Inc., he has been involved in conducting a wide array of development efforts throughout the United States (including capital campaigns, feasibility/planning studies, annual appeals, development audits, etc.). He spent his first seven years with the company working primarily in the diocesan division spending time in Charleston (SC), Fargo (ND), Houston (TX), Norwich (CT), San Diego (CA), Savannah (GA), St. Augustine (FL), St. Petersburg (FL), Wheeling-Charleston (WV) and Youngstown (OH). Since 2004, Steve has served in the parish division, in sales, supervision and operations of development efforts in Catholic churches throughout the Northeast, Midwest and Southern United States.
Steve is a 1996 graduate of Siena College in Loudonville, NY. He and his wife Tara were married in 2001 and have four children, Callaghan, Quinn, Leah and Daniel.