Is your parish offertory suffering as a result of Mass suspension?
Your path forward should include so much more than just Parish Stabilization or Increased Offertory!
We see these unique times as an ideal opportunity to not only address today's offertory shortfalls, but to also cultivate and foster a long-lasting and loyal relationship with your entire parish community
Parishes have been thrust into the digital age: streaming Mass online, utilizing social media to relay the Word of God, and relying on digital platforms to collect offertory. The Path Forward uses both traditional and modern messaging to capture all parishioners' attention. By establishing and implementing modern and tailored engagement practices, we will help solidify and build on your parish's digital foundation. As a result, parishes will realize an immediate replenishment of offertory, a predictable and sustained income, and increased engagement.
We know that an added expense is the last thing your parish needs during this time of uncertainty; and we have structured The Path Forward with that as a priority.
No strain to existing budgets. No fees until services are completed.
Fixed fees and expenses that are a fraction of the amount raised.
A customizable plan based on parish size, demographics, resources, current situation, etc.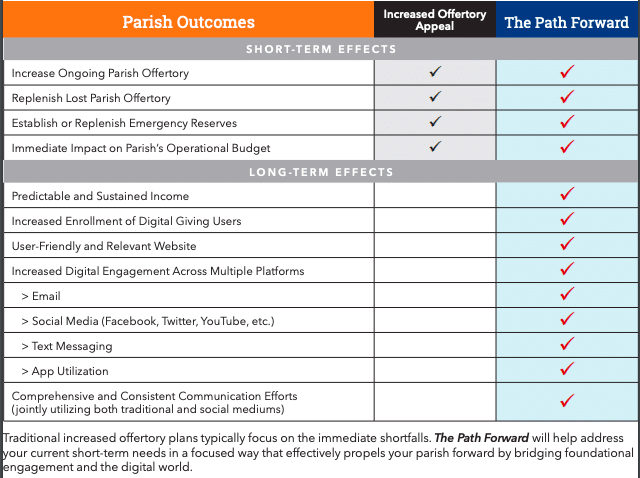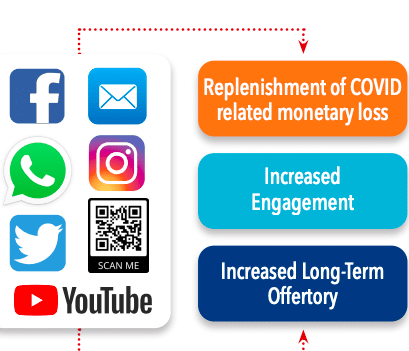 ¿Ha sufrido su colecta parroquial por las actuales suspensiones de Misa?
¡El progreso de su parroquia merece mucho más que solo la estabilización de su ofertorio!
Guidance In Giving ve la situación actual como una oportunidad única para mejorar las limitaciones de su parroquia. Hoy tenemos la oportunidad para fomentar aquellas familias parroquiales alejadas y crecer en fe como una comunidad verdaderamente unida.
En una epoca digital, nuestras parroquias urgentemente han tenido que reaccionar para satisfacer las necesidades virtuales de nuestros parroquianos: ofreciendo las misas por internet, usando las redes sociales para compartir la Palabra de Dios, y usando plataformas digitales para las colectas parroquiales. El Camino Adelante usa la combinación de comunicación tradicional y moderna para unificar su iglesia y mantener a todos informados con las noticias parroquiales. Así podremos establecer una base eficaz para mejorar las futuras comunicaciones de su parroquia. Esto resultará en el reemplazo inmediato de los fondos parroquiales necesitados, un ingreso sustentable, y mejor participación de parte de sus feligreses.
Sabemos que un nuevo gasto financiero es lo último que necesita su parroquia durante este tiempo de incertidumbre; por eso hemos estructurado El Camino Adelante para ayudarle.
Sin sobrecargar su presupuesto parroquial existente.
No cobramos tarifas hasta que se completen nuestros servicios.
Las tarifas y gastos son fijos y son una fracción del monto recaudado.
Un plan personalizado basado en el tamaño de la parroquia, la demografía, los recursos, la situación actual, etc.