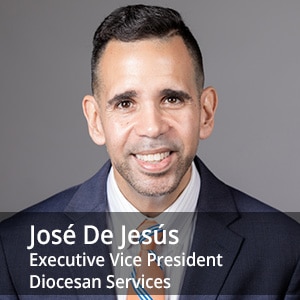 Vice President
Phone: 917-417-7345 | Email Me: jdejesus@guidanceingiving.com
José De Jesús has spent the last 26 years working in the field of development and has traveled extensively throughout the United States teaching the concepts and precepts of "Catholic Stewardship." Before joining Guidance In Giving, he served as Director of Stewardship and Development for the Diocese of Saint Augustine, FL. As a national speaker he helped the International Catholic Stewardship Conference in setting up its first Spanish Track for the Annual Conference years ago.
Jose graduated from Queens College in New York City with a Bachelors in Music and a Bachelors in Psychology. He holds an Masters in Business Administration from Jacksonville University with a concentration in marketing. He has served as a certified catechist, music minister and Youth Minister for the Diocese of Brooklyn, Diocese of Orlando, and the Diocese of St. Augustine. He is also a motivational speaker and lecturer in the areas of communication, strategic planning, organizational development and men's issues. He is married to Rosemary for 28 years and, with their three children, live on Long Island, New York.