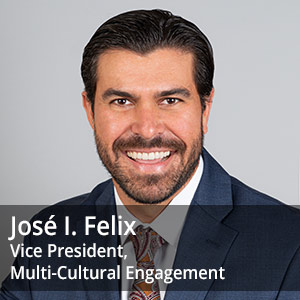 Vice President, Multi-Cultural Engagement
Phone: 760.877.8570
Email Me: jfelix@guidanceingiving.com
Although José I. Felix was born in San Diego, throughout his childhood he lived on both sides of the U.S.-Mexico border and is both humbled and grateful to be able to extensively understand these two worlds.
Before Guidance In Giving, José had spent most of his adult life in San Diego where he also graduated from the University of San Diego in 2012. His journey with GIG started immediately upon receiving his Bachelor's from the university, and he was granted the opportunity to help parishes and dioceses in North Carolina, Illinois, Idaho, Texas, Rhode Island, and Northern California. After his first three years with the firm, he decided to take a sabbatical and attend St. John's University in New York, graduating with a Master's in Spanish Language and Literature; his goal, to provide the best service possible to Spanish speaking communities.
José loves working for all multicultural communities around the country and he's passionate about creating new ways to engage not only our multicultural communities but also those who seldom respond to conventional communications.