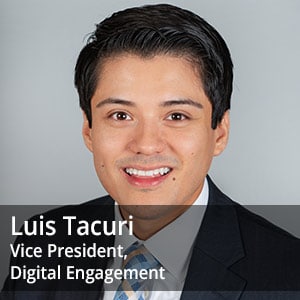 Vice President, Digital Engagement
Phone: 631.877.1548
Email Me: ltacuri@guidanceingiving.com
Luis was born in Cuenca, Ecuador, and moved to New York at the age 7. As a child he wanted to be a police officer, and he graduated LIU with a Bachelor's Degree in criminal justice. Although he had dreams to serve his community as a police officer, God had plans for him to serve the Catholic Community nationwide. Luis Tacuri joined the Guidance In Giving family in 2015 and has conducted both parish and diocesan campaigns, primarily in the Southeast. As the Vice President of Digital Engagement, he currently supports the various parish campaigns with digital and social media support. Luis is fluent and both English and Spanish.
When Luis is not working, you can find him sharing his time with his wife, eating their favorite snacks, watching Disney Plus, or exploring Walt Disney World.