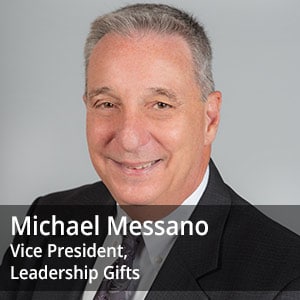 Vice President, Leadership Gifts
Phone: 813.523.7098
Email Me: mmessano@guidanceingiving.com
Michael Messano, a New York City native, joined Guidance In Giving in 2018. With more than 25 years of experience in the field, Mike has been involved in many parish and diocesan planning studies and capital campaigns throughout his career, most recently with the Diocese of Providence (RI) and the Diocese of Worcester (MA). For the past two years, Mike has focused his efforts on working with both our parish and diocesan clients with the Leadership Gift phase of their campaigns.
A graduate of St. John's University, NY, Mike and his wife Erin currently reside in Riverview, FL. They have three children, Rebecca, Matthew and Jessica. Mike is a parishioner at St. Stephen Church where he has served as a member of the Development and Stewardship Committee and Knights of Columbus. An avid sports fan, Mike enjoys cheering on his beloved Notre Dame Fighting Irish.