Fall Into an Organized Communication Plan
Sip your pumpkin spice while you clean up your communication techniques
How is it possible that it's already mid-September? Children are back to school and the pews are filling back up. Fall is the perfect time to reflect and regroup as we head into some of the busiest times in the life of the church. We have parishioners back in the pews. How do we most effectively engage them in the life of the church?
The first step towards engagement is effective communication! 
Are our parishioner lists antiquated? Do we have the most current emails and cell phones for our families? Do we have an easy and effective way to communicate with them?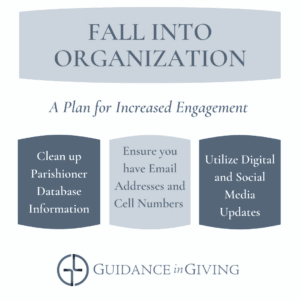 Here at GIG, all of our campaigns begin with an evaluation of your existing database. 
Based on what we learn, we set a plan to improve. We want your campaign to begin from a position of strength and we want to utilize the best methods to make it successful.
The ability to reach your parishioners with our messaging is paramount.
Our campaign service leaves your parish or diocese with a cleaned up parishioner list, ready for use in mailings, emails, or texts. This is just one of the many ways we strive to make a difference in the parishes we serve, while we are on site and long after we are gone.
Thinking this cleanup sounds great, but not looking for a capital campaign? No problem! We are happy to assist you and we have the knowledge and materials to make the process painless.